Classic Dent Removal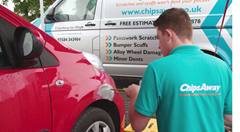 ChipsAway specialists offer a mobile dent removal and repair service, where they can complete a dent removal and respray in just a few hours. This service is also available at our ChipsAway Car Care Centres, depending on the franchisee in your area.
What is Paintless Dent Removal?
Some of our specialists are also able to carry out Paintless Dent Removal (PDR)*, or may be able to refer you to a reputable PDR specialist in your local area. PDR is a quick and cost-effective car dent removal method. As the name suggests, the car dent repair is carried out without the need for filling and painting, or costly complete panel replacement. Our specialists remove small dents by using a method that 'massages' the dents out of the damaged area, restoring the panel so that it appears as good as new. Paintless Dent Removal is most appropriate as a car dent repair technique for smaller dings and panel dents where the paint has not broken, such as parking and trolley dents, and stone dents.
Restoring dents in this way is the quickest method of dent removal and repair, as it eliminates the need for filling and painting. The repairs can be made within a few hours, and once complete, can ultimately help to restore the value of your vehicle for the fraction of the cost of a conventional full body shop repair and paint.
*Paintless Dent Removal is only available from a selected number of ChipsAway specialists, please enquire or call us to find out more.
ChipsAway are also specialists in Paintwork Scratches, Alloy Wheel Repair, Bumper Scuffs and Supagard Paint Protection.